Their names were:
F.O. Henry (Harry) Hugh Cowan
b- ca 1915, d- Age 31
Svc Number- J85095
Buried in Beechwood Cemetery, Ottawa.
Sec. 27. Lot G. Grave 14
lived in Ottawa, ON
Distinguished Flying Cross
Father- Capt. Alexander Benson Cowan,
Mother- Frances Elinor Cowan, of Ottawa ON
Brother- Rev. J. E. B. Cowan of Estevan,
(Pastor of the Estevan Free Methodist Church).
Brother- Lieut.-Colonel Eric Cowan, Ottawa,
Uncle- Brigadier G. A. Cowan of the Salvation Army, Africa
Harry Cowan's body was flown back home,
all those below were sent home via a Special train.

---
Flt. Lt. James Stewart Lees
b- ca 1914, d- Age 32
Svc Number- J20727


Awarded Distinguished Flying Cross in 1943
Posted overseas, August 1942
Buried in Royal Canadian Legion Cemetery,
Little Mountain, BC
Son of Thomas and Susan Lees, Abbotsford, B.C.
Husband of Evelyn Gladys Lees, Abbotsford, B.C.
---
Flt. Lt. Edward Chester Stewart
b- ca 1918, d- Age 28
Svc Number- J17000



Distinguished Flying Cross,
The Distinguished Flying Medal,
was presented by the King of England, April 1943
Went overseas in Nov 1941
Completed 2 tours of duty over enemy territory.
48 sorties without a scratch.
June 21, 1945 returned to Canada
Buried in Plot 6 Row 1,
Holden Cemetery,
Holden, Alberta, Canada
Son of Albert T. Stewart and Lottie M Stewart,
Brother of Frank Brisbin Stewart of Camrose AB,
the BA Oil Agent in Camrose at the time of the accident.
---
F.O. Ned Jordan
b- Dec 1, 1919, d- Age 27
Svc Number- J18919
(Headstone says Flt. Lt.)
Distinguished Flying Cross, summer 1945
Buried in Elmwood Cemetery,
88 Hespeler Ave, Winnipeg, MB.
Father- Edward Marsh Jordan,
who lived at 238 Talbot Ave., Winnipeg, MB.
Mother- Annie Jordan
Brother of Edward M. Jordan of Winnipeg, MB
---
F.O. William Albert Perry
b- ca 1918, d- Age 28
Svc Number- J51726
Buried in St. James Cemetery, Kemptville ON
Wife- Bernice M. Perry, Belleville, Ont.
Nephew of Mrs. R. J. Torgensen, 40 Kingston Row,
and Grandson of Mrs. W. P. Perry, 37 Kingston Row
Father- Melville Perry
Mother- Olga Perry, of Hawarden, SK
---
F.O. Robert James McIntyre
b- ca 1923, d- Age 23
Svc Number- J19103
Buried in Greenwood Cemetery, Carman MB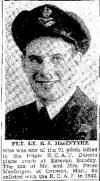 Father- Mr. Peter McIntyre, Carman, MB.
Mother- Mary Ann McIntyre
---
F.O. Raymond (Ray) Avard Brandser
b- May 1, 1923, d- Age 23
Svc Number- J28638
Home- Glen Bain SK
Buried in Hawley Cemetery (Clay)
Plot 24 Row 2 Grave 1, Minnesota, USA
Father- Mr. Henry Sylfest Brandser
Mother- Lillian A. Brandser, from Glen Bain, SK.
Brandser Island in Northern Saskatchewan named after him.
---
F.O. Max Thomas
b- ca 1923, d- Age 23
Svc Number- J92977
Home- RockGlen SK
Buried Sept 20, 1946, in Woodlawn Cemetery,
Block K Lot 121 Grave 12955, Saskatoon SK
Mother- Mrs. E. Thomas,
652 Saskatchewan Cres. E., Saskatoon, SK.
Father- B. Eugenie Thomas of Saskatoon SK.
Thomas Lake in Northern SK named after him
---
Flt. Lt. Leonard Edgar Turtle
b- ca 1922, d- Age 24
Svc Number- J14865
Home- Marshall SK near Lloydminster SK.
Buried in Woodlawn Cemetery,
Block K Lot 122 Grave 12956 Saskatoon SK
Wife- Mrs. Zola Maxine Turtle, nee Jones
26 Hazel Ave., Ottawa and Saskatoon SK..
Son of Alfred E. Turtle and Kathleen I. Turtle of Cavalier
Turtle Island in Northern SK named after him
Zola daughter of A. B. Jones of Lilac
Leonard and Zola were married May 1942 in
Ruddell United Church, North Battleford
Jan 9, 1946 Leonard was part of the mail squadron,
delivering mail overseas.
He left his car on a street in Ottawa,
and baffled the police for a while.
---
FO. Stephen Pond
b- ca 1912, d- Age 34
Svc Number- J29113
Buried in Mount Royal Cemetery, Montreal QC
Wife- Mrs. Constance Marie Pond, Montreal.
Son of John and Annie Pond, of Montreal
The Oldest of all the men on board
---
Flt. Lt. Joseph Alphonse Camille Bouchard
b- ca 1918, Ste.Anne de la Pocatiere, Quebec
d- Age 28
Svc Number- J26027
Distinguished Flying Cross
Buried in Notre Dame Roman Catholic Cemetery, Ottawa ON
Wife- Ruth Bouchard, Longeuil, Que.
Son of Georges and Marie C. Bouchard, of Ottawa, Ontario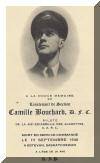 Photo courtesy Pierre Lagace Blog, link below
---
Flt. Lt. William Murdock Jackson
b- ca 1922, in Winnipeg MB, d- Age 24
Svc Number- J15733
Buried in Mount Pleasant Cemetery, Toronto ON.
Wife- Kitty Marie Jackson, Lansing, Ont.
Father- George Richmond Jackson
Mother- Isobel Jackson, of Winnipeg, MB
---
Flt. Lt. Charles Stanley Wright Proctor
b- 1917, in ON, d- Age 29
Svc Number- J6150
Wife- Mrs. Helen Isabelle Proctor, Toronto.
248 Heath Street West, Toronto
Buried in Park Lawn Cemetery, Toronto, ON
awarded Distinguished Flying Cross, Feb 2, 1943
Served overseas, and was commended for his
Navigator Bomb aiming ability, on enemy targets.
Living in Edmonton AB with his parents in 1921.
He had 3 brothers and a sister in 1921.
Father- Charles Russell Weller Proctor
b- Mar 16, 1871 in Brighton, Northumberland Co. ON
d- 1930
Bank Manager in Edmonton in 1921
Mother- Mona Louise Wright
b- 1884 in Quebec
d- 1974
Grandfather- John Edward Proctor
b- Mar 29, 1824
d- 1911
---
Flt. Lt. Morris (Maurice) Crosby Cuthbert
b- ca 1918, in BC, d- Age 28
Svc Number- J16223
buried Pinecrest Cemetery, Ottawa, ON
Plot South half 597. Sec. D. Grave 1.
Wife- Mary Beryl W. Cuthbert, Ottawa, ON.
2 Memorials 1947 says his name was Maurice C. Cuthbert
one signed Mother and Dad Whiting
other his wife Beryl.
Father- John Cuthbert, b- ON, age 47 in 1921
worked in Grocery store in 1921
Mother- Edith Eliza Cuthbert, nee Husband
of Vancouver BC, b- ON, age 41 in 1921
family living in Vancouver BC in 1921
he had 3 brothers and 2 sisters in 1921
---
Flt. Lt. Clifford Somerville Coppin*
b- June 22, 1923 in Kamsack, SK, d- Age 23
Svc Number- J85255
Buried in Riverview Cemetery, Kamsask, SK.
Plot 1. Block 6. Grave 7
Wife- Amelia E. Andrews, Kamsack, SK
b: July 13, 1922 in South Ockendon, Essex
Father- George Sommerville Coppin
Mother- Elizabeth Morden
Coppin Lake in NW SK named after him
---
Flt. Lt. Lawrence Victor Kirsch
b- ca 1918, d- Age 28
Svc Number- J11048
Distinguished Flying Cross
Home- Yorkton SK


Buried in Yorkton Cemetery, Yorkton, SK.
Block 11. Lot 41. Grave A.
Wife- Beryl Kirsch, 174 Tupper Avenue, Yorkton, SK.
Father- Henry Kirsch of Yorkton SK
Kirsch Lake in Northern SK named after him.
---
Flt. Lt. Louis (Lew) Eric John Murphy
b- ca 1923, d- Age 23
Svc Number- J20191
Born in 1923 in Moberly, Cheshire, England
October 6, 1944 awarded the Distinguished Flying Cross (DFC)
- No.427 Squadron
Wife- Mrs. L. E. J. Murphy, Ottawa.
Discrepancy- one records says
husband of Delys D Murphy of Charlottetown PEI,
Son of Squadron leader Ernest Eric Murphy and
Edith Gladys V. Murphy of Britannia Heights,
Buried in Pinecrest Cemetery,
Plot 598 Sec D Grave 1, Ottawa ON.
Memorial notice 1947, signed Patricia, Bridget, and Jacqueline
another signed his Mom and Dad, and brothers
Eric and Kenneth
Aug 1944 he piloted an aircraft of a bomber force
detailed to attack Forte De Nieppe
His airplane sustained severe damage,
but he still flew it back to base.
He had completed many sorties by this time.
---

Flt. Lt. James Pyle Jessee
b- Feb 2, 1920, in Spring City, Russell Co., Va. USA
d- Age 26
Svc Number- J26908
- Distinguished Flying Cross - No.184 Squadron
Buried in Forest Lawn Memorial Park, Burnaby BC
Wife- Mrs. Marjorie Eleanor Jessee, nee Southerland, of Vancouver BC
married ca 1945, had a daughter Carolyn Lee Jessee
James was an American from Lebanon Va, USA
joined RCAF in 1941,
Father- Conn Trigg Jessee
b- Mar 25, 1885 in, Russell Co., Va.
d- Aug 2, 1934 in, Russell Co., Va.
Mother- Margaret Augusta (Gussie) Pyle Jessee,
both of Lebanon, Virginia, USA
James was fourth of 10 children.
6 brothers, 4 daughters.
one of 5 brothers who served in WWII.
a 6th brother was not old enough,
and served later in Germany.
Grandfather- John Henry Jessee
Info and pictures above and below
from his nephew Jim Jones, May 29, 2013
(son of Dorothy Jessee, sister of James Pyle Jessee)
James was quite a daredevil, and had joined the U.S. Army Air Corps because he believed that war with Germany was imminent and wanted to get ready. James had completed his second year at Milligan College in Johnson City, Tennessee when he joined the Army. He received his pilot training in 1940 at Chanute Field, Champaign, Illinois as a member of the Fourth School Squadron (Air Corps), where he was considered an outstanding pilot. Apparently some of the pilots would take the planes and dogfight at night, James being one of them. Once caught, the offenders were offered the choice of taking their entire training course again or leaving the service. Several chose to leave because they considered themselves fully trained and capable pilots and chafed at the thought of repeating their entire course of training. James and several of his friends joined the R.C.A.F. because they could begin flying immediately; the R.C.A.F. was happy to get trained pilots.


James Pyle Jessee

James and Marjorie in Halifax

During WW II, James and his best friend from the R.C.A.F. were assigned to No. 184 Squadron RAF, based originally at RAF Colergne in England but which moved to many other RAF airfields and then to Normandy, the Netherlands, and finally Germany itself. The 184 Squadron claims to be the first based on German soil (21 March 1945). The only plane we are certain James flew was the Hawker Typhoon. James flew 150 missions over Germany, for which he received the DFC. He told the family he didn't feel right about the fact that of all his close compadres, he was the only one to come back alive from the war. James got out of service, went to work for the father of his best friend (who did not come back) at a trucking company in Vancouver. But his love was flying, and that is what he wanted to do, so he re-joined the R.C.A.F. After the Estevan crash, James' brother Harold, himself a WW II hero with a number of bomber missions over Germany, met James' wife and daughter, Marjorie and Carolyn, in Canada and drove cross-country to Vancouver, where another service was held for James prior to his burial in Burnaby BC. In 1949, Marjorie came from Vancouver, and some of James' family -- his mother Gussie, sister Dorothy, and brother Harold -- traveled from Lebanon, Virginia to Ottawa to attend the ceremony at Government House in Ottawa where James posthumously received the DFC from Viscount Alexander, Governor General of Canada.
---
Flt. Lt. William (Bill) Jacob Louis Weicker
b- ca 1916, d- Age 30
Svc Number- J15301
D.F.C. and bar,
Family Awarded Distinguished Flying Cross
- No.405 Squadron
Buried in St. Peter's Lutheran Cemetery, Kitchener, ON
Father- William Weicker
Mother- Emma E. Weicker,
North Kitchener, ON.
---
F.O. Robert (Sandy) Cowan McRoberts,
b- ca 1918, d- Age 28
Svc Number- J12537

-Family Awarded Distinguished Flying Cross
- No.421 Squadron
Wife- Mrs. Rose Anne McRoberts
288 Yale Avenue, Winnipeg, and Sudbury ON.
Son of Henry Hunter McRoberts
and Jessie Park McRoberts of Calgary;
Buried in Burnsland Cemetery.
Lot 105. Block 11. Sec. G., Calgary AB.
---
Leading Aircraftman (LAC) Vitantos Luke Kirko
b- ca 1926, d- Age 20
Svc Number- R276396
Buried in Mount Hope Cemetery,
Range 45 Sec18 Grave 121, Toronto ON.
Sister- Miss Mary Kirko, Toronto.
Son of Kaiton and Victoria Kirko of Toronto
---
*Note- Clifford Somerville Coppin's name
was corrected by his daughter
Valerie Palmer Sept 12, 2006
F.O.= Flight Officer
Flt. Lt. = Flight Lieutenant